Insight Articles

DNR Chief of Special Operations
by Bob Blaschke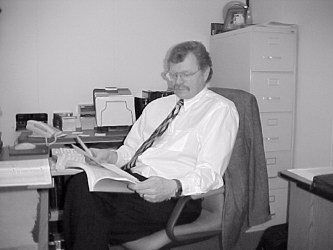 Solin at work in his Madison office.
Over the course of watching or being involved in several internet trades of furbearers last winter, I quickly realized that many people involved, were (to put it politely) ignorant of the game laws covering these transactions. I looked through the various pamphlets provided to me by the WTA, covering DNR regulations. Some of those items were dated from the early 90's. Others seemed to conflict other information I had. Either way I decided to play it safe and picked the most restrictive regulation I found, for my own internet purchases.
As the winter trapping season progressed, I had the chance to purchase a nice lot of Alaskan wolves as well as a group of blaze orange pine martins from Wyoming. If I had earlier thought that the DNR regs. in my possession were confusing, after a couple of calls to the Madison DNR offices, they became clear as mud.
In the back of my mind, I had been planning to do a DNR interview for an upcoming issue of Insight and had already made a request through other DNR channels to interview someone from the department. As Tom Solin, was one of the two DNR employees I contacted concerning the wolves, I called him back and requested an interview for Insight. He was kind enough to accept and we made arrangements for me to meet him at his office.
Mr. Solin is serving his 12th year as the Chief of Special Operations and has been employed by the DNR for 23 years. He is a Wisconsin native and a graduate of UW Stevens Point. Prior to his present position, he has served as a field warden in Walworth (1978-79), LaCrosse (80-84), and Oconto (85-86) counties. As the Chief of Special Operations his primary duties include the management of state wide issues concerning commercialization of DNR resources. In other words he is responsible for items related to Taxidermists, Wholesale Fish Dealers, Fur Dealers, Captive Wildlife, and the investigations related to any of these commercial areas. Prior to the DNR he was employed by the National Park Service and the National Forest Service.
Many of you may know or remember Tom, as he spoke to our group at the LaCrosse summer meeting a few years back. I certainly enjoyed meeting him for this article and truly appreciate that he took the time out of his busy schedule to meet with me. It was a pleasure and honor to chat with him in his office.
As I entered the doorway leading to Tom's division I knew I was in the right place. Various pieces of taxidermy were visible throughout the area. It was also clear, that the DNR does not spent needless funds on fancy offices or furniture. I have been in bigger public bathrooms, than the room Tom calls his office. There wasn't much more room, than what his desk, chair, and some cabinets took up. One of the items on his office wall, was a well done Walleye, that was the result of a sting operation of an unlicensed fish taxidermist.
Ironically it was a very well done piece, yet as you need to be licensed in Wisconsin to perform taxidermy for a fee, this taxidermist was not and of course following an investigation and an arrest, this piece helped lead to a conviction and became decor in Tom's office. So does every taxidermist in Wis. need to be licensed to avoid arrest? Actually - NO, in fact there presently exists a legal loophole that allows taxidermists to mount Whitetails in Wisconsin without being state licensed.
When the Wis. legislature passed statute #29.347, it included paragraph (3) which excluded the head and skin of a legally harvested deer from chapter 29 (which is the chapter that set forth that a taxidermist working for consideration, needs to be licensed). The DNR knows this loophole exists and Tom certainly would not be opposed to seeing it closed. The problem however lies within the budget. It is simply not a high enough priority (to get DNR funding), for the DNR to initiate a correction that closes this loophole.
If on the other hand, we as an association wanted to see this loophole closed, we could seek out a state legislator to author a Bill to correct the language in paragraph (3) so that deer capes and hides can still be legally bought and sold, yet still require whitetail taxidermy to be done by a licensed taxidermist. Also keep in mind that an unlicensed Whitetail taxidermist, can not perform taxidermy on any other animal, fish, or bird for consideration. Nor can they legally buy or sell other species (unless they have a separate fur dealers license).
According to numbers from the DNR (March - 2001), we currently have 970 licensed taxidermists in Wisconsin. That number is down slightly from the old list (997) that the WTA obtained for the mailing of our 1st issue of Insight. There is another 460 listed as taxidermist helpers. These are the people we list on our license (family members or employees) who may assist us with our business. Of the 460 helpers, it is not known how many of these actually perform taxidermy, or are simply listed to check-in or deliver taxidermy items.
Either way that number is certainly well below the actual number of practicing taxidermists living in Wisconsin. According to the NTA, they know that 100,000 taxidermists exist in the United States alone. One has to figure that with our huge Whitetail herd and other great fishing and hunting opportunities, that Wisconsin has well over the 2000 taxidermists we should have, if you simply divided the 100,000 taxidermists by 50 states.
While addressing the subject of inspections ("Audits"), Tom was unable to provide a total on the number of audits done throughout Wisconsin last year. According to Tom this task is "accomplished at the local level" so the number is unknown. Even though planned audits of taxidermists within a warden's coverage area could occur anytime throughout the year, Tom stated that the "driving force" for most audits are ongoing investigations. Most are not investigations looking into the actions of the taxidermist being audited, but rather looking into the actions of a customer. Without having definite data available to him, Tom felt strongly that the most common violation found during audits were "improper records or sloppy records".
Realizing that audits are a big distraction for us, most wardens will certainly work with you to schedule another audit, especially if they stop by and you have just applied hide paste to a manikin or are involved with another task that needs your attention. Of course there will always be the exception, that is when we need to be as professional as possible and do the best we can, to complete the task at hand and assist the field warden with their audit. Again proper paper work, proper storage techniques, and of course following all DNR regulations will make those audits, less stressful to you and your warden.
Among other things we discussed, was the fee structure for seizure tags (red tags for car-kills). It is the wardens discretion to collect the "highest fee obtainable". This is why a tag for a road killed otter in Dodge County may cost $10, yet a bear cub in Ashland County may be $50. We also talked about the "Ed Klink" law (allows for sale of private collections), Tom reminded me that our "Wis. Taxidermist license allows us to mount for consideration, not to mount for resale". I believe we can take that to mean that any taxidermist who sets up production of mounts, simply for sale on ebay or some other retail outlet, can certainly expect one of those "audits". The DNR certainly does not want us to be in the business of producing taxidermy items just for retail. We also discussed the Wisconsin Dove hunt and Tom said that as doves are "listed by the WDNR as Migratory Birds, follow all Federal laws" when receiving a dove, as with any other migratory bird.
Lastly before closing, I just want to stress to each of you, that we do not have to fear Tom or any of the DNR wardens we may encounter. They are no more the bad guys, than we are. They are a group of dedicated men and women, who believe in what they do and act on the best behalf of all Wisconsin sportsmen and sportswomen. I encourage any of you, with questions or conflicts concerning taxidermy, to contact Tom. Please realize that he has a lot of responsibilities and may not be able to immediately answer your question, or may have one of his employees contact you. The point is that Tom is very willing to work with us, in fact it is part of his job. Please also remember that when contacting Tom, you also represent the WTA and the professionalism we strive for. Tom can be reached at his office, by calling (608) 266-8574 or by e-mail at Solint@DNR.STATE.WI.US.
If you are wondering the outcome of those wolves or pine martins, well keep up your membership, as one deal fell through because of DNR regulations and the other was completed, but not without it's own list of complications and confusing interpretations of DNR regs. I smell a future article. Hope to see you all in Prairie du Chien (if the rain ever stops).
by Bob Blaschke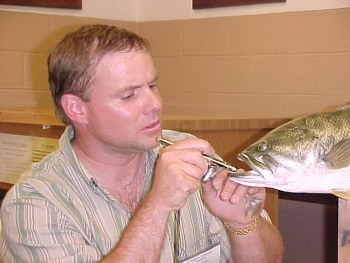 Mike Orthober at work with his Iwata.
Last August I had the chance to sit down and spend several hours with Mike Orthober, a fellow WTA member, who just happens to be known as one of the best fish taxidermists in North America.
On this particular Friday morning, Mike had decided to paint a dandy largemouth bass, that he had mounted for a customer. As he began to work on
this piece, he shared with me, step-by-step his technique for painting this fish. He held nothing back and freely answered all questions. As he worked, I wrote tip after tip into my notebook.
The tips I wrote down covered everything from the design of the fish stand Mike used, to the way he wired his fish. He gave me his schedule to paint this species and other painting tips that he uses on all of his fish.
Mike also talked at length, about the airbrush he uses and why it's worth every penny, that it sells for. He also talked freely about his choice of paints, explaining in great detail why he chose the brand that he uses in both his commercial work and competition pieces.
One of the neatest things that Mike demonstrated was his finger painting methods. I'm serious, he really did finger paint his way across that bass. The results were what you would expect from a world champion, that bass looked great. I can't imagine any customer who wouldn't appreciate the added flash that his finger painting gave to that fish.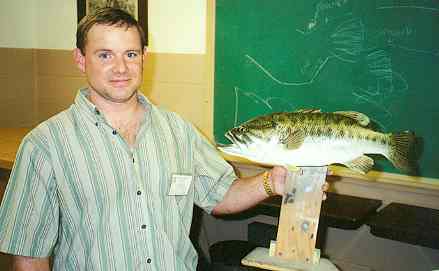 Mike Orthober with his finger painted bass. Great seminar Mike!
So what do you think Mike charged me for this morning of instruction? Maybe $100, maybe $200. Besides my gas money - absolutely nothing. You see Mike gave this seminar on "finger painting" in Prairie du Chien, at our last WTA Rendezvous.
There was no fee to attend this seminar, there wasn't even a fee to get into the Rendezvous. Mike's was one of only several seminars given at no charge during this WTA Rendezvous.
And Mike isn't the only World Champion to teach at our WTA seminars. In fact several of our WTA members who have won National Championships have taught these free seminars at WTA events. So if you haven't joined the WTA yet, why not do it now and take advantage of this great benefit.
by Bob Blaschke
The title says it all, except maybe what caused the fire, and of course what happens to the taxidermist afterwards. In recent issues of several national trade magazines, there has been stories of how such headlines have affected taxidermists across the country.
Well it happens here in Wisconsin too, and maybe more than we think. This past winter, in response to an inquiry I received by e-mail, I began searching for just such a fire victim right here in Wisconsin. I was given only some vague facts about the fire, when I started my search.
Given a few possible names, I first searched our WTA membership list for any matches, after that failed I tried searching by city. Again nothing. What made this even more frustrating was that the fire was reported to have burnt (to the ground) the shop of a Wisconsin Dells taxidermist. I live five miles out of the Dells and had no idea who suffered this fire.
After having no luck with the local paper or our WTA polls, I turned to the Tri-County Yellow Pages. Again no luck, all phone numbers tried for Dell's area taxidermists, were found to either be, "no longer working..." or were answered by people no longer involved in taxidermy.
So now what? I knew of other taxidermists within a 30 - 45 mile range, yet none of these folks are WTA members, but I put in the effort and tracked down their phone numbers and began calling them, identifying myself as a WTA member, trying to find information about this fire.
Still no real luck, apparently there is just no network within our state where these non-WTA taxidermists gather to exchange information or to form ties with each other. So after calling several non WTA taxidermists in my area, (who didn't know anything about the fire) I was about to give up and reply back to the original e-mail, that the fire may be a hoax.
Then out of the blue, I received a call back from a taxidermist, whom I had left a message on his machine (that I was searching for a victim of a fire). I was looking for information, but you guessed it, I found the victim.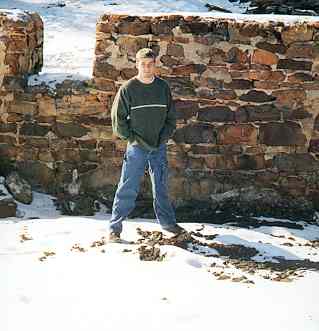 Wilke with all that remained after fire destroyed
his shop and business.
This week long search, basically ended in my own backyard. After a few minutes of speaking with the victim, he agreed to meeting me and gave me directions to his residence. The next day I drove the roughly 7 miles to his house and spent an hour or so talking with him about the fire. Even more ironic than finding that this fire actually took place so close, was finding that I drove within a mile of it, every time that I went to Reedsburg.
The point of this piece, isn't so much about how this fire affected this Wis. taxidermist, but how taxidermists across the country had heard about the fire on the internet and were trying to contact the victim, to offer him support during his time of need, as well as helping him out by donating extra capes and such. Yet I couldn't find him in my own backyard.
Initially those who had contacted me, through the internet, became suspicious of reports of this fire, when I couldn't even confirm that the fire took place. Unfortunately this may have negatively affected the donations to the victim. Had I been able to quickly locate and confirm the identity of the victim, he may have received more assistance.
I would like to think, that had he been a WTA member, I could have found him quickly on my own, or through the help of other WTA members. I have heard numbers that put about 1000 licensed taxidermists in Wisconsin, of those a little over 300 are WTA members. So with seven out of every ten taxidermists in Wisconsin not joining the WTA, it makes sense that I was not able to quickly find the fire's victim. What a shame that so many Wisconsin taxidermists decide each year to keep to themselves.
I would like to believe, that both WTA members and nonmembers would be equally willing to help out a fellow taxidermist in need. The reality may very well be, that taxidermists who don't know each other or belong to the same state or national organizations are less willing to help others.
Well on Jan 3rd, 2000 this fire did take place in rural Sauk County. The victim , Brian Wilke (19 years old) lost everything. His shop was located on his parents property in an old small barn. The fire burnt the structure to the ground and it destroyed all of it's contents. Those included about 100 customer pieces, cash deposits, records, and Wilkes own trophies. The fire in essence also put Wilke out of taxidermy. As of Nov. 13th, Wilke has not rebuilt or returned to taxidermy as a full-time occupation. He would like to thank all of those who offered help after the fire. Anyone wishing to reach Wilke, can either e-mail him, at wilketaxidermy@hotmail.com or phone him, at (608) 666-2033.
(image courtesy of Bill Brown)
by Bob Blaschke
In September of 1999, long time WTA member, Bill Brown and his wife Shirley opened Papa Bears Northwoods Store. The couple saw an emerging market developing and decided to act on it. They built their retail store beside Bills taxidermy shop, located on Hwy. 12 between Baraboo and the Wisconsin Dells area.
Having moved his taxidermy business to it's present location in 1986, Bill soon found out that the homework he did picking this location was going to pay dividends. As his taxidermy business continued to grow, Bill found that he couldn't keep around any showroom pieces. "People were stopping to buy, just about anything". As the couple watched, the Dells area turned into a year round tourist attraction with more and more log home development.
The fact that several major resorts also were built (or remodeled) along this same rustic theme (Black Wolf Lodge, Chula Vista, Wilderness, etc.) only added to the numbers of people stopping at Bill's taxidermy shop, looking to buy pieces similar to those seen while visiting the Dells area.
The Browns realized they had a terrific opportunity, as many of these people wanting to buy Bill's taxidermy, were not even hunters. These were just people looking to complete the decor of their log home. These buyers wanted taxidermy to display, for the art that it truly is, not for the trophy that it often represents.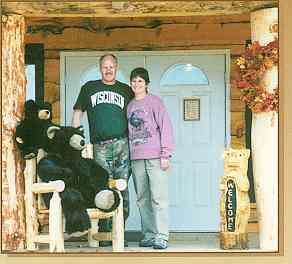 (photo courtesy of Bill Brown)
Bill and Shirley at the entrance to their store
With this emerging market, the Browns decided to tear down a rental home they owned, beside Bill's shop and replace it with a retail store selling items into this fast growing market. Shirley had the retail background, as she had been the general manager of a sporting goods store. The couple went ahead with their dream and built the retail store, which resembles a huge single story log building.
They offer an endless list of retail items. Having been in the store several times, I still could not provide you with a complete list, but it includes such things as Antler Chandeliers, Carved Cedar Lamps, Rustic Log Furniture, Framed Art Work, and Carved Bears just to name a few.
These items sell well and the Browns already have plans in the works for an addition onto the store. In addition to the items already mentioned Bill, also sells taxidermy out of his store. In fact Bill sells more than he, himself can produce and is happy to be contacted by any WTA member who may have items they want to sell. Of course only items legally sold in Wisconsin can be considered.
When obtaining taxidermy items for his store, Bill buys them outright and is willing to put up to an hour into repairs to make an item sellable. If the piece requires more work than that, it is simply not worth Bill's time. If you have several pieces for sale, Bill is even willing to travel to you, to make the purchase.
The run of the mill whitetail shoulder mounts are not big sellers. Bear rugs and shoulder mounts to 1/2 life-size have a market, as does large gameheads (ie; Elk, Moose, and Caribou). Bill also has a steady market for small mammals (fox, bobcat, etc.). I can not give you a set price structure that Bill pays for the taxidermy items he buys, as we all understand each piece is unique.
As an example, just before our interview, Bill purchased a closed mouth elk (nice, but not world-class) for $500. The piece was recently done (modern mount) but in need of repairs (landed on it's nose), after falling off the wall. Bottom line is if you have mounts that you are no longer wanting to display (as your work has greatly improved, since joining the WTA) or have been stuck with mounts from deadbeat customers, why not get in touch with Bill and maybe both of you can put a little money into your pocket. You can phone the Bill at (608) 356-9598.
I know many taxidermists have found ebay to be the place to dispose of these unwanted items, but I still hear of the horror stories involved with shipping off these mounts, insurance claims on shipping damages and of course those dreaded worthless checks of phony money orders. Dealing with Bill at his Papa Bears Northwoods Store, will not involve all the possible risks you could encounter, by selling on ebay. So if you already have access to the web, then check out www.papabearsnorthwoods.com.
Papa Bears Northwoods Store is a special place, especially to Bill, as he built it to honor his deceased father (Robert). When you visit, you will find a large carved wooden statue of an adult bear, holding a young cub. This represents the spiritual relationship that Bill Brown still feels towards his own papa bear.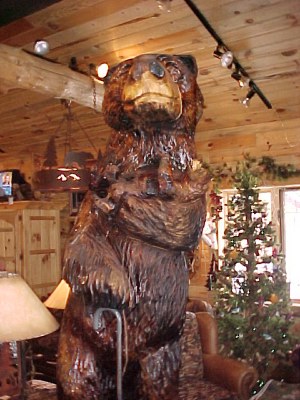 Papa Bear and his Cub
by Bob Blaschke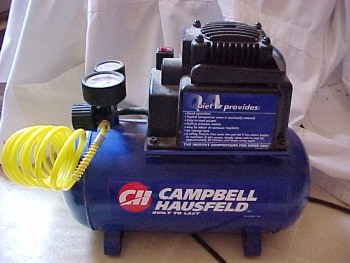 A Great Compressor for under $100 !
If you are like me, somewhere you keep a wish list of specimens you want for your showroom or tools you want for your shop. As bad as we want many of these things, money often keeps them out of our reach. For years I have wanted one of those silent air compressors, you know the ones I'm talking about. They are offered by suppliers like McKenzie and Van Dykes for $500 to $900.
I easily convinced my wife many years ago that I needed my second compressor (5 HP, 30 gallon). Talking her into another (1/2 HP, 1 gallon) compressor for $700 (plus shipping) because it is so quiet, would not be easy. I would also have a tough time convincing myself to lay out that much cash, for yet another compressor.
Then while Christmas shopping last fall, I slipped off into the sporting goods dept. at our local Walmart. On an end cap between the fishing poles and the automotive section, I saw a little blue box advertising a Quiet Air Campbell Hausfeld oilless compressor. I quickly raced off to find my wife to share with her my discovery (ok - I asked her for permission).
Before buying, I got the clerk to open the box and plug in this little compressor. Hearing that little hum, was all I needed and less than $100 later it was mine. Now before you jump ahead, and think I purchased one of those 1/2HP diaphragm compressors, let me tell you about the features on this little baby.
This compressor comes with a 2 gallon air tank, and delivers a max. of 100 PSI. It has a pressure gauge and switch and an easy to adjust air pressure regulator. It also has a safety switch that will turn off the unit if the motor begins to overheat. To top it all off, it has a carry handle.
Bottom line (besides price) is this compressor has done everything I have asked of it. My first project was to repair a motorized lift chair. I used this compressor to power my finish nailer, as I drove 2" nails into the chair's oak frame (@ 70 PSI) without any problems. After repairing the frame, I then used my stapler (@ 50 PSI) to reattach the chair's fabric.
So after finding that this compressor worked fine on projects, that I didn't even intend to use it for, I moved on to my first airbrushing test. After all, I wanted this Quiet Air compressor for airbrushing late into the night. My big compressor is too loud for this chore, often kicking in so hard, that I find myself on the ceiling.
My first task was to airbrush a NATO camo pattern on a model airplane for my 9 year old. It turned out great. The regulator allowed me to control the pressure to my Paasche and I put on that pattern without any trouble. Next I moved on to reproduction trout. I sprayed my white base coat and then my silver/black (to define scales) again without any problems.
I have not yet finished the trout, but certainly look forward to trying this unit for creating those halos on my Rainbow. I believe this Quiet Air compressor is up to the task, but maybe my Paasche won't be. Kind of putting off those halos until I get the next item on my wish list, the Iwata airbrush that Mike Orthober so highly recommends in his seminars.
If you are looking for an alternative to airbrushing with your loud compressor, or are unsatisfied with the limited results of diaphragm type compressor (without an air tank), then you owe it to yourself to look at this unit. If you are about to buy your 1st compressor and want it primarily for airbrushing, then you can not go wrong by buying this model.
At a suggested retail of $99, it is lower than most diaphragm models offered through the major taxidermy supply companies and yet delivers most of the features found in a large unit costly 2 to 3 times as much. Compared to those expensive silent compressors, you can save literally hundreds of dollars. You can even save the cost of shipping, simply by purchasing it locally from your nearest Walmart.
To find out more about this Quiet Air compressor you can contact Campbell Hausfeld at their 800 number (888-247-6937) or even check them out on the web at www.campbellhausfeld.com.
by Bob Blaschke
This past summer saw the return of one of my favorite WTA events, the Midwest Taxidermy Rendezvous. The event was held over the weekend of August 4th, 5th, and 6th at the Armory in Prairie du Chien. We had gone a couple of years without hosting one and I for one, really missed the event.
If you haven't had the chance to take in a Rendezvous, you are missing out on one of the best things the WTA does for the Wisconsin taxidermist. The WTA doesn't even require you to be a member, to attend this event.
So what is the Rendezvous? Well it's a chance to attend seminars given by some of the most talented and knowledgeable taxidermists found in North America (luckily for us, these people just happen to live here) It's a chance to purchase materials and supplies (often at discounted prices) from some of the Midwest's best suppliers. It's a chance to buy or sell extra capes, horns, or other specimens from or to other taxidermists. It's a chance to meet other taxidermist offering wholesale services.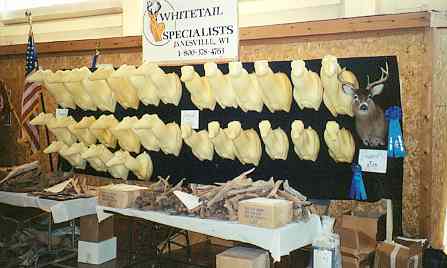 When attending the summer Rendezvous, don't forget your checkbook.
These guys were selling their forms with eyes for $15 !
It's also a chance to compete in a WTA event. This year's competition was a raccoon mount, judged by the 5 foot rule. The judge could not touch your mount or even use a flashlight. What a great way to get your feet wet in competing.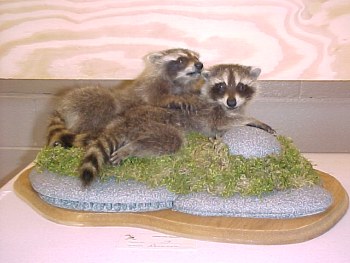 Just one of the many raccoon mounts entered into competition.
On Saturday night the WTA also hosted a Pig Roast ($3 per person), that was held along the shore of the Mississippi River. Whether or not you were able to attend the dinner, the weekend was still a great chance to see old friends and to make new ones.
I hope all of you, who attended the Prairie du Chien Rendezvous, had a great time. That is the point of the event. The association doesn't put on this show for the purpose of making money. It's just another great benefit to belonging to the WTA.
If you are not a member or missed the Rendezvous, think seriously about joining the WTA or attending our next one. You owe it to yourself and more
importantly to your customers, to become the best taxidermist you can be. By
joining the WTA or attending events (like our Rendezvous) you may very well
improve, both your work and your business.
by Bob Blaschke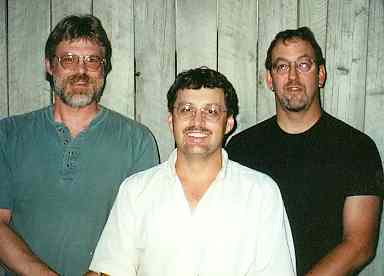 Pat Wagner, Brian Olson, and Mike Yeska form Competitor's Choice.
Three of our very own WTA members have recently joined forces in the creation of Competitor's Choice Whitetail Mannikins. The trio has combined their vast talents, with Matuska Supply Co., in an effort to offer the most
anatomically correct whitetail forms, to the taxidermy market.
Brian Olson, Pat Wagner, and Mike Yeska had two important things in common when they decided to start this venture. All three have won national championships and they all agreed that the forms on the market could be improved. As Olson put it "Rather than sit around and complain about what's out there, we decided instead to produce a better form."
So the trio agreed to channel their talents into creating an offering of anatomically correct forms rather than to continue to struggle with the forms presently offered to the taxidermy industry. Their idea is simple. Start sculpting each new form from the skull up, so to speak. Obviously there is more to it than that, but the goal is to build forms that fit capes without all the extra work, that is required with so many other forms.
All three men will continue to operate their own separate taxidermy businesses while their products are then manufactured by Matuska, who will also serve as the sole distributor. This venture with Matuska will enhance his product line as he expands his market share of the industry.
Competitor's Choice is looking forward to its goal date of a Spring 2001 introduction at the World Show. The trio continues to get together for sculpting sessions. The biggest advantage to these meetings are the three sets of eyes used in their system of checks and balances.
In addition to the gathering of untold gamehead measurements by this trio and the precision with which they carry out their work, they have chosen to use a three piece mold in the production process. Though tougher and more expensive to use over the traditional 2 piece mold, these 3 piece molds will allow for greater detail on the form sold to the taxidermist.
According to Yeska "We want to produce a product better than what is out there." Having met, spoke with, and visited the shops of these three, I don't see how their forms won't be the talk of the 2001 World Show.
by Bob Blaschke
The author, using the Quebec Lite table model.
With an estimated 100,000 taxidermists in the United States and sales of rotary fleshing machines well below that level, we know that many taxidermists have found other ways to thin capes and hides. A list of these other techniques could include; two-handed fleshing knives, scissors, scalpels, skife knives, motorized wire wheels, power washers, and of course those handheld mini fleshers. I'm sure I left out several other methods that could be added to the above list. Yet another way that taxidermists thin their hides and capes, is to send the work out. Some employ wholesale fleshers, others simply leave it to their tanners.
Over the years, I have tried my share of these other methods. Each of which has met with varying degrees of success. Many I still employ today, others I tried once or twice and gave up on. I had always planned on buying a full sized flesher, but until recently I never had the space.
To many taxidermists a rotary flesher is considered a big investment. For those of us doing taxidermy as a hobby or as a source of part-time income, it is very tough to justify their cost, especially if we need the approval of our spouse.
If you are new to taxidermy, or are still experimenting with some of the above methods to avoid the expense of a full sized flesher, you need to sit down and determine the real cost of buying a full sized flesher. Better yet you need to figure the cost of NOT buying a flesher.
As I mentioned above, I put off my purchase, until I had the space to use the flesher in. As I look back, I know without a doubt, that I spent more money on the other methods I used first. I have tried both of the nationally advertised hand held air powered fleshers, before buying my table flesher. The cost of those two devices alone totaled over $325. I can not figure the cost of my compressor into this equation, as I use my compressors for many more tasks than simply powering hand held fleshers. However if you are considering using one of the hand held air powered fleshers, realize that if you don't already own a compressor, you will need one. This will at a minimum, add another one hundred dollars or so to your cost of avoiding the expense of a full sized flesher.
This past summer, as plans for my new shop were being finalized, I began seriously shopping for my first real flesher. I read all the postings on taxidermy net, that discussed the various fleshing machines. I had made up my mind and was ready to spend some serious money on one of the national brands, often praised on the taxi net forums.
Then suddenly a new ad began appearing in the trade magazines for the Quebec Lite. I was familiar with the Quebec name, but just never saw any taxidermists on the internet singing it's praise and had decided to buy a different brand. I decided to look into the new Quebec Lite, before placing my order for the other machine. I called their toll free number for information but before hanging up I had purchased the Quebec Lite. My decision to buy was based on three things; name recognition, price, and most importantly my phone conversation with Gerard "Gerry" Tessier.
I do not mean to imply that Gerry is the world's best salesman, but rather that he came across to me, as honestly being concerned with my needs. I felt even before actually placing my order, that he would be there to help me, whenever I needed it. We spoke for probably 45 minutes before I ordered the Quebec Lite. Gerry never tried to pressure me into buying either of his machines.
I purchased my complete Quebec Lite at full price - $675 (U.S.) plus shipping ($145). My unit included the laminated table top, frame, motor, head unit (with blade), 2 sharpeners, and an instructional video. Gerry took care of all the export - import permits (shipped from Quebec) and told me my machine would arrive in 10 - 14 days. To my surprise, the group of packages arrived in less than a week. As excited as I was to get them opened and to assemble my new Quebec Lite, I was that busy. The unassembled components sat in their separate boxes for nearly three weeks, before I found the time to assemble the unit. After assembly I pushed the completed unit into a corner and patiently waited until the end of the deer season before trying it out.
As suggested by Gerry, I saved several of the back halves from this seasons whitetails, to use for practice before trying my hand at shaving a customer's cape. All I needed now was a chance to use the machine. About the middle of January, I began rehydrating capes and picked out three of my practice hides to also rehydrate. As this first group of capes and hides sat in my pickle, I reviewed the instructional video and got ready to begin shaving whitetails.
As promised by Gerry, I totally destroyed that first practice hide. But in that 15 minutes or so that it took me to destroy that hide, I learned the importance of adjusting the angle of the blade. On the second hide, I only cut two small holes, and these were the result of my experimenting for this article. The third practice hide that I pickled, was allowed to drain and then I tossed it out.
After those first two practice hides, I was confident enough to shave a customer's tubed cape. Even though shaving tubed capes presents a few new problems, I quickly worked my way through that cape and did not cut a hole until I went back and began doing detail work around the face and ears. I did cut a small hole at the base of a ear. I was responsible for the cut, not the machine. I had just touched up the blade and should have tested the new angle before working the thin area around the ear.
For the purpose of this review, I went on to shave practice hides in several different conditions. I normally clean up my capes and hides of all meat and fat prior to salting. After rehydrating and pickling, I shaved these items without any problems. I also salted a couple of hides, as brought to me by the customers. I did not clean them up at all. I just salted them twice and allowed them to dry. These hides were covered with thick junks of meat and fat. After coming out of the pickle, I began shaving these hides. Though it did take longer, the Quebec Lite handled the task. The only thing that I didn't like was that the shaved hides were not white. I threw them back into the pickle and shaved them a second time the next day. They looked much better.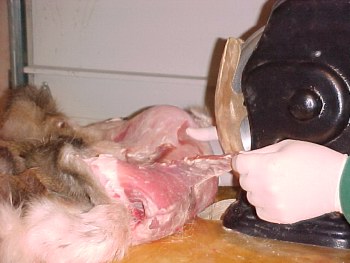 Fleshing raw whitetail capes.
The third way, that I shaved a hide, was based on postings I had read on the net. One northeastern taxidermist often spoke of shaving his capes after the first day of salting. He also wrote about how tough the salt was on his blade. I figured why not try shaving a fresh hide. So when a fresh deer hide was given to me to dispose of, I decided to use it for my test. As my wife took some digital pictures of the process, I basically shaved, or if you prefer, fleshed that entire deer hide in approximately 40 minutes.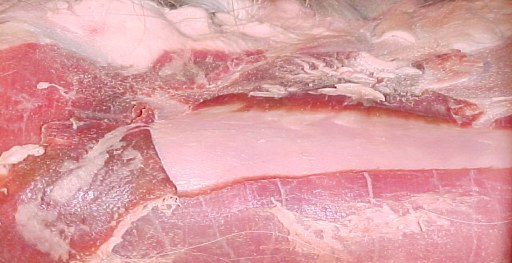 This picture shows just how cleanly you can flesh a raw whitetail cape.
Now 40 minutes to flesh an adult whitetail hide, may not save some of you experienced hand fleshers any time, but let me tell you it certainly was a much easier 40 minutes on my bad back and neck. As I learn to trust the machine, I believe it will become even easier to use.
So is the Quebec Lite without it's faults? Of course not. Mine came with it's share of annoying little problems. Honestly I should have expected that, as the Quebec Lite is a totally new design. My machine was one of the first new models shipped. It had flaws that have since been corrected. I think those early flaws can be attributed to growing pains.
The majority of my units problems were simply more annoying, than real trouble. They included such things, as the on/off switch plate arriving completely shattered. That was upsetting that I spent over $800 (with shipping) and received a 19¢ switch plate. Gerry has now changed these over to metal plate covers. Just as frustrating was the fact that I ordered the complete table unit and thus needed to assemble the table upon arrival. This task would have been much easier, had one of table's 4 main legs not arrive undrilled. I am somewhat mechanically inclined and do have a shop full of power tools, to include a drill press, but I should not have needed to drill these assembly holes in this leg myself. From speaking with Gerry, his production of these units increased dramatically after their release and this undrilled table leg was accidentally shipped out, but he has implanted tighter production standards, to avoid similar errors.
Additionally the screws included to attach the table top to the metal frame, were found to have smaller heads than the holes predrilled in the metal frame. In other words, they did not work and I had to go out and pick up washers to keep these heads from passing through the frame. After pointing this out to Gerry, he stated he will now most likely drill the proper size hole from now on for these frames, or provide washers.
The last problem (perhaps the most troublesome) I encountered with the assembly of my unit, was attaching the motor. Gerry includes a diagram and a written set of instructions for this step. Following the steps that Gerry provides, you attach this motor to the bottom of the table, then you attach the metal stand (legs). So thinking you have finished, you now tip the unit over, only to find that you are not even close to having clearance for the pulley's belt to run from the motor to the rotary blade. I grew up in a family construction business and certainly know how to read blueprints, but after 2 tries I tossed out Gerry's drawings and eventually found the correct motor placement by trial an error. What made this so tough, was I was now lifting and turning over a very big and heavy unit, after that 1st try at assembly failed.
Again from speaking with Gerry I learned that the problem arose as my shipped unit came with the assembly plans for the original Quebec flesher.
Gerry assured me that he would also correct this problem and make sure that proper assembly instructions are shipped with future units.
So now that I have finished whining about the assembly problems with my new Quebec Lite, let me just say, that these sort of problems should not prevent you from buying one of Gerry's fleshers. As I said earlier, I believe these are a result of the totally new design of the Quebec Lite and in fact should be expected when any new idea reaches production and then ultimately the consumer. After my trial of this flesher and my phone call with Gerry I believe fully that he has or will correct all of these issues.
Lastly, I need to address my biggest concern about the Quebec Lite. The rotary blade is encased by a two piece plastic housing, that has each half attached to the aluminum frame by a single coarse threaded screw. On my unit, there was no expertise applied in drilling these 2 holes. One is at a severe angle, which makes the removal and installation of this housing a miserable task.
This is so miserable, because you need to remove these plastic shields to gain access to the brass guard adjustment nuts, EACH and EVERY time you adjust your guards. Once you learn how to use your flesher, you will not need to made these adjustments all that often, BUT when you are just learning to use this flesher, you are constantly needing to adjust. In the beginning you are trying to reveal just a small cutting surface, but later as you gain experience and confidence you then want to take a bigger cut, as you shave.
In speaking with Gerry on this issue, he already knew of the problem and had taken steps to correct it. He has now gone to a bolt and wing nut, method for a quick release of these housing shields and a problem free reassembly. This solution makes prefect sense and I will switch my unit over to this assembly technique, as soon as I break down my unit for it's first cleaning and maintenance. If you already own one of these fleshers, that came with the little coarse screws, simply drill a hole in your frame and a matching hole in the plastic housing, then pass a fine threaded bolt through both holes and attach the housing with a wing nut. Believe me, this will make the removal of the blade's housing unit so much easier.
Having told you earlier, how quickly I gained the confidence to shave real capes and stop practicing on scraps, is all you need to hear if you are considering this flesher. After only shaving 5 pickled capes, I moved on to using the Quebec Lite to flesh many items, before even salting them. After having such great success fleshing off that full-sized deer hide, I then also used my Quebec Lite to do the first fleshing on a freshly skinned life-sized Fallow buck. It worked like a charm and not a single cut.
Before I would have hand fleshed that entire hide, before salting. I also know I would have spent much more time doing it by hand and not gotten anywhere near the same results. Just the week before our Green Bay show, I got in 5 lifesize Bobcats. Now these are no where near as thick skinned as what I had been fleshing with my Quebec Lite, but I had the confidence in this flesher and went to town on all five of those cats. Some had big chunks of meat and fat still attached and all had that saddle we are so used to dealing with. The Quebec lite cleaned these hides up so nicely and quickly, that I know I saved hours of work as compared to fleshing these Bobcats by hand. In all five, I only cut one small hole into the last one. That was at 10:30 pm after a 13-14 hour day.
If you are considering the purchase of your first rotary flesher, maybe the newly released Quebec Lite is for you. It is a very forgiving machine for someone just learning how to use a rotary knife. It is very affordable at $675 (US - plus shipping). It is a full-sized flesher and it is quiet. It has shaved and now also fleshed everything I tried with it. I have all the confidence in the world that this machine will handle whatever I try next (now soaking up a large mountain lion) without destroying it.
Having told you honestly why I like the Quebec Lite, and what was wrong with mine, I am happy to recommend this flesher to you. For more details or information, contact Gerard Tessier by phone (800 -567-5080) or by email (fleshing@atreide.net).
by Bob Blaschke
Owned and operated by longtime WTA member Gary Zehner, Trademark Manikins is located in Waukesha (Wis.). Gary offers his own product line of gameheads (mostly whitetails), some life-size forms, and a wide selection of fabric
earliners (North American, African, and exotic). In addition Gary also offers a small selection of chemicals. His dextrine based hide paste is non-molding. To order any of Gary's products or to request a flyer, call him at (262) 544 -5068.
Gary has been in taxidermy for 40 years and though he hasn't competed recently, he is a past "Best of Show" winner at both the WTA and NTA. Along with his major awards, Gary has a large collection of ribbons. In addition to his background competing Gary has an extensive history of judging taxidermy competitions, having judged 75 to 100 shows.
Gary first joined the WTA, at it's inception and has served in various positions within the WTA (Treasurer, Vice President, Board Member). Gary has also served on the NTA Board of Directors.
Having bounced back from a heart attack 3 years ago, Gary continues to add forms to his product line. Some of you may have already been using his creations without even knowing it. Gary has sculpted gameheads and rug shells for several of today's major supply companies, to include - Jonas Bros., Rinehart, Precision, and McKenzie.
One of the biggest sellers from Gary's line, is his earliners. He creates a fabric (impregnated with plastic) earliner that he feels offers the best glue adhesion on the market. These liners also have a "good memory" so that after you bend them during insertion into the ear, they will bounce back to their original shape. These liners also offer a uniform thickness, so that after trimming for proper size, you are not left with that thick edge to deal with, common with plastic liners. These earliners also offer the taxidermist the ability to build your own ear butts for the desired placement, crucial to each individual mount.
Want to Hear About It?
Make Plans to Attend the Rendezvous!
by Bob Blaschke
While researching the NTA insurance plans, I decided to phone four insurance agents (two each from Mauston and Wisconsin Dells). I phoned one independent agent and 3 national chains. I was only looking for comparison rates to the NTA business plan, but what I found was a better BOP (business owners plan) at a savings of 50% below the NTA's annual premium.
So how was this possible, well first of all, all the agents I called were already licensed to sell insurance in Wis. In other words, that part of their overhead is divided by thousands of customers and policies, so their state license fees amount to only a fraction of any policy they sell. With the NTA policy, that Louisiana firm, has to become licensed to sell insurance within Wis. and may have to pay a fee and or post a bond to do business in Wis. Guess who pays their overhead to conduct business in Wisconsin? The few NTA members who purchase that policy.
The second reason, I was offered such an attractive policy, was that the independent agent I spoke to, wanted my business. He also wanted the business of the WTA. He found me a policy written for taxidermists, by a reliable Wisconsin based underwriter. He even contacted the underwriter, to get approval of a group rate.
Prior to my first phone call to Eric C. Helland (President of Tri-City Insurance Agency), I did not know him. Since first visiting him in his office, I have learned that he is a long time resident of Wisconsin Dells and is the current president of the school board. Ironically I also learned that he was my son's soccer coach last summer. My point is, that Eric is a reliable member of the community, and his efforts are more than those of any web site insurance firm.
Eric has accepted an invitation to attend our August Rendezvous and give a presentation on this issue. He has also been in contact with a representative from the underwriter, to also have them attend the meeting. The tentative time for Eric's talk is 1pm on Saturday (August 18th). Please let's give him a big turn out for his efforts. In addition to this offering for BOP, Eric has also been researching group discounts on other insurance, should the WTA elect to choose Eric and Tri-City as our insurance carrier.
I myself, have already purchased the plan, and from our last winter meeting, I understand that our newly elected president (Dave Blank) was already insured with the same underwriter. Again I encourage everyone who already has a business plan, to come and listen to Eric's offer and especially those of you without insurance to attend. I hope to see you all in Prairie du Chien.