Midwest Taxidermy Rendezvous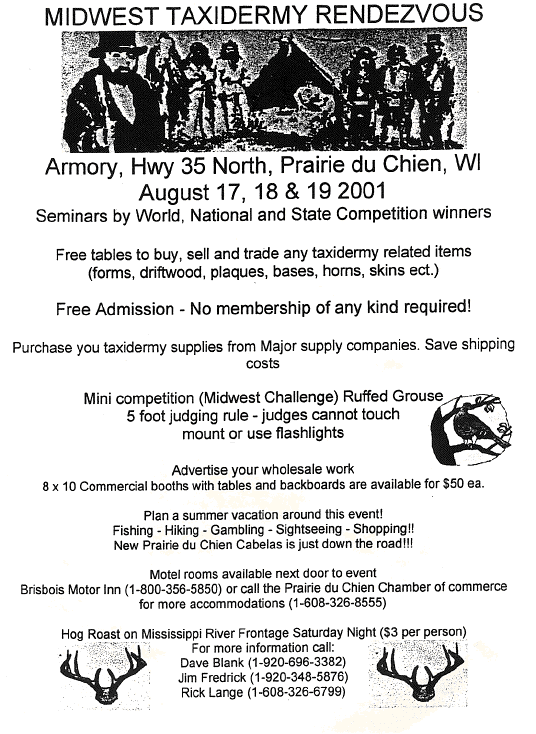 Friday
12:00-3:00pm Seminar: Mounting a Deer Head-Phil Helms
Phil will take you through the steps and point out concerns when mounting a quality customer mount.
3:00-5:30pm Seminar: Fleshing a Cape -Bob Blaschke
Bob will compare the many methods of fleshing vs. a rotary knife. He will also
demonstrate how to properly prep and use a rotary knife. Pickled deer hides will
be provided for attendees to give various methods a try. Bob will be on-hand all
weekend for people to try out the New Quebec lite.
5:30 WTA Board Meeting: All officers, board members and committee chairpersons, along with their spouses, are invited to attend.
Saturday
9:00am-12:00 Seminar: Basic Fish Mounting-Tim Perkins
Tim will take you through the steps and point out areas of concern when mounting a customer fish.
1:00-3:00pm Seminar: Personal and Shop Insurance-Eric Helland
Eric will discuss policies and options available to taxidermists and our families.
3:00-5:30pm Seminar: Painting a Trout-Mike Orthober
Mike will show you his techniques and the steps involved in painting a trout.
6:00pm Pork Roast: Mississippi River Frontage,
$3.00 per person-pay at the event. Directions available at the Rendezvous.
In case of rain, the event will be moved into the Armory.
Sunday
8:30pm-11:00 WTA General Meeting: All members of the WTA are welcome to attend. Members need to have your membership card for the meeting and should wear it when attending the Rendezvous and all its functions.
11:00-2:00pm Seminar: Mounting a Deer Head-Brian Olson
Brian will show you his techniques for mounting a customer deer head mount.
McKenzie-Supplies
Van Dykes-Supplies
Mike Morley-Wholesale Turkeys
Dan Rinehart-Wholesale Fish
Whitetail Specialists-Deer Headforms
Trademark Manikins-Forms
Jerry's Woodworking-Plaques and Bases
Al Marrow-Wholesale Fish
Matuska Supply-Supplies